Two Birds, One Stoner: Excursions in Space City
posted by Free Press Houston @ 10:46 AM

by Harbeer Sandhu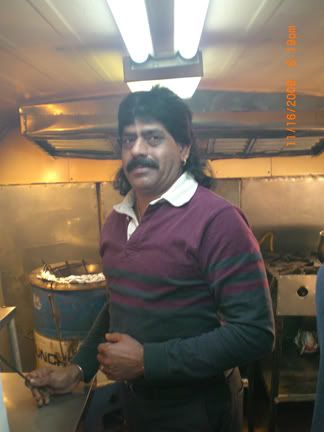 Everybody's always asking me where to get Indian food. Like I should know. Me going out for Indian food would be like you going out for grilled cheese and brussels sprouts. But lately I've been hearing a lot about this place on the north side--an Indian "taco truck" parked beside a Valero station. Now, normally I have a rule against eating at restaurants attached to gas stations (I just have a problem with the idea that food equals fuel) but I had heard so much good tell (like, seriously, everybody has been talking about this place) that I had to check it out.
So, imagine a Valero station in northwest Houston. Imagine, in its parking lot, a shortbus painted white with a vinyl sign hanging slack from its roof bearing the words "Desi Grill & More." Imagine picnic tables set up beneath white tents where on weekend nights, laughter and Urdu poetry mingles with incense and the aroma of
fish pakoras
frying in sesame oil. Not a bad scene, really.
Vinod Bhai is a warm, mustachioed, bemulleted, one-earinged man who, after 25 years, got tired of operating fancy Indian restaurants on Hillcroft and decided to open up a dhaba (India's version of the roadside truck-stop greasy spoon diner). He's very adamant about the distinction between a restaurant and a dhaba--you won't get cloth napkins at dhaba, and you might have to pump your own water from the well, but the food you get will be fresh, authentic, delicious, and inexpensive--stuff that will stick to your ribs.
His specialties are
tandoori chicken
(advertised with a pollo asado sign!),
fish pakora
, and
daal makhni
. I had the pleasure of tasting the tandoori chicken and it was perfect--crispy and just slightly charred on the outside, tender and juicy on the inside. The daal makhni (buttered lentils) was hands down the best I've ever had. Ever. Vinod Bhai's daal recipe involves cooking the lentils in milk instead of the usual water and includes a healthy dose of butter and tomato sauce. Yum!
So make the 30 minute trip up to the Desi Grill & More some time--it would be worth even a longer drive. They located at 12672 Veterans Memorial Drive @ Sableridge (beside the Valero station, across from Whataburger and Shipley's.) They are open from 6 pm to 12 am, daily, and if you're lucky, you might sight one of their regular customers--WWE wrestler The Great Khali--and I dare you to challenge him to an eating contest.
While you're up there, less than a quarter mile away, tucked into a Kroger's strip mall at the corner of Veterans Memorial and Bammel-N. Houston, is one of Houston's all-time coolest record stores, VINYL EDGE. In addition to the fact that he's got one of the best used vinyl inventories on the Gulf Coast, you have to give owner Chuck Roast props for keeping it real in a sometimes hostile environment (the burbs!) for over 24 years.
Chuck--whom you might know from his bands Space City Gamelon, A Different Kind of Monkey, and Turmoil in the Toybox, or his many radio shows on KPFT and KTRU such as the Funhouse Show, Xenofile, and Genetic Memory--was holding it down back when Jimmy Swaggart's and Tipper Gore's people were pamphleteering outside of his store. He tells a great story about the time that he made a window display for the Ministry/Gibby Haynes tune "Jesus Built My Hotrod." Apparently, they needed to fill up the bottom part of the window, so Chuck instructed his employee to rip and crumple pages out of a Gideon's Bible for filler. Well, just outside in the parking lot, a mother and child were being traumatized by this sight and pretty soon, all the churches in the area were atwitter. I am surprised to hear Chuck say that he has gotten far more heat for religious satire in his window display than he has for political content--like the gory anti-war displays he made for both Gulf Wars, which are always great to see in this suburban strip mall.
Vinyl Edge is a throwback to the era when record stores doubled as head shops and underground comic book stores, which reminds me of another great story he tells. When they first opened on Halloween 1985, they used to carry a lot more bongs and pipes and such, but with the advent of crack in the late 90s, they started attracting a new, agitated, sketchy, and sometimes rude clientele. So Chuck decided to get rid of all the pipes and stocked the old pipe cases with books. That's right--crack indirectly led to increased literacy!
Vinyl Edge is located at 13171 Veterans Memorial Drive. They are open Mon-Thurs 10-7, Fri-Sat 10-9, and Sunday 10-6.